ACCI sends Ebola Protective Gears to Sierra Leone November 14, 2014
With the outbreak of Ebola in Sierra Leone, Guinea, Nigeria and Liberia, ACCI scheduled to take a medical mission to Nigeria, cancelled the mission. In place of the mission, ACCI decided to raise Ebola protective gears for shipment to Sierra Leone. On September 13th, 2014 working with volunteers, ACCI collected including surgical masks, as well as protective gears along with other supplies through the generosity of Houstonians to assist Sierra Leone in the fight against the Ebola Virus. What was not collected was purchased with funds raised. A total of sixteen 50 pound boxes were packed. With the help of DHL US, a collaboration arranged by Jennifer Andrews of DHL and a member of the board of Directors of ACCI, the packages were transported to Sierra Leone on November 14th, 2014. The supplies were donated to the village of Lunsar and Loko, identified by Susan Hoefling another member of our board of Director, who had travelled to Sierra Leone in the past. The shipment was received and donated on our behalf by M'balu Sasey, the Community Relations Manager of London Mining Company located in Wilberforce, Freetown, Sierra Leone.
by Dr. Eucharia Iwuanyanwu
ACCI working to provide help not just in cancer care extends collaboration with DHL to PA students at Emory University. See story below.
Every Package Has a Story: This One Inspired Medical Students, Helped Workers in Sierra Leone Fight Ebola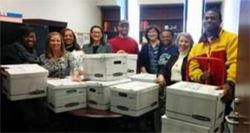 For the past 10 years, Ace Cancer Care Inc. (ACCI) led by Dr Eucharia Iwuanyanwu (President and CEO), has worked to educate people around the world about cancer and help its ill-equipped victims.
But three years ago, the non-profit group based in Houston, TX, hit a financial roadblock, and was struggling to pay for overseas transportation of equipment and medications.
Jennifer Andrews with our CFSC and also a board member of ACCI, was approached to see how DHL could help. She brought the situation to the attention of Rob Ezernack, CFSC Sr. Director, and Rafael Estevez, CFO, to see if DHL would approve shipping the supplies as a social responsibility f or CFSC. They did, and not only set a course to help the sick get healthy, but also to inspire a new generation of healthcare workers.
The group, which normally does two international mission trips, was scheduled to go to Nigeria and Zimbabwe last year but delayed the trips in light of the Ebola crisis, and instead used the funds to send supplies to Sierra Leone.
"Emory has a number of former students of the PA program volunteering in Sierra Leone and they requested scrubs because there was a significant s hortage," said Maha, who is the Physician Assistant Program Director at Emory. "Because of your generosity the providers in Sierra Leone will be able to better care for Ebola and other patients."
Working behind the scenes to organize the shipment were Jennifer Andrews, DHL Root Cause Analyst; Rob; Phil Deeds, Sr. Manager of Human Resources; the mailroom staff of CFSC and the staff of IAH. And on Nov. 7, DHL shipped two skids of medical supplies to Sierra Leone.
"Our Physician Assistant students here at Emory University have worked tirelessly to collect, sort, count, box, and log scrubs, even at a moment's notice. However, without DHL our efforts would have been futile!" said Maha, who added, "I also wanted to express my thanks for Jennifer, who made the proc ess go so smoothly and for Kevin, the driver, who was courteous and efficient. They were the perfect representatives for DHL and it was apparent that they enjoy what they do."
Pictured above: Emory University PA students hand off the shipment of scrubs destined for Sierra Leone to DHL Atlanta courier Kevin Williams
Jennifer Andrews
Root Cause Analyst
Certified International Specialist
DHL Express
16416 Northchase Drive, Suite 100
Houston, Texas 77060
USA